Contact to professor
Please send email (taesik.lee@kaist.edu) the professor before your visit
Professor's office: Room 2102, (E2) Industrial Engineering & Management Bldg.
---
Major career paths of alumni
Alumni of CSD Lab. are active in various fields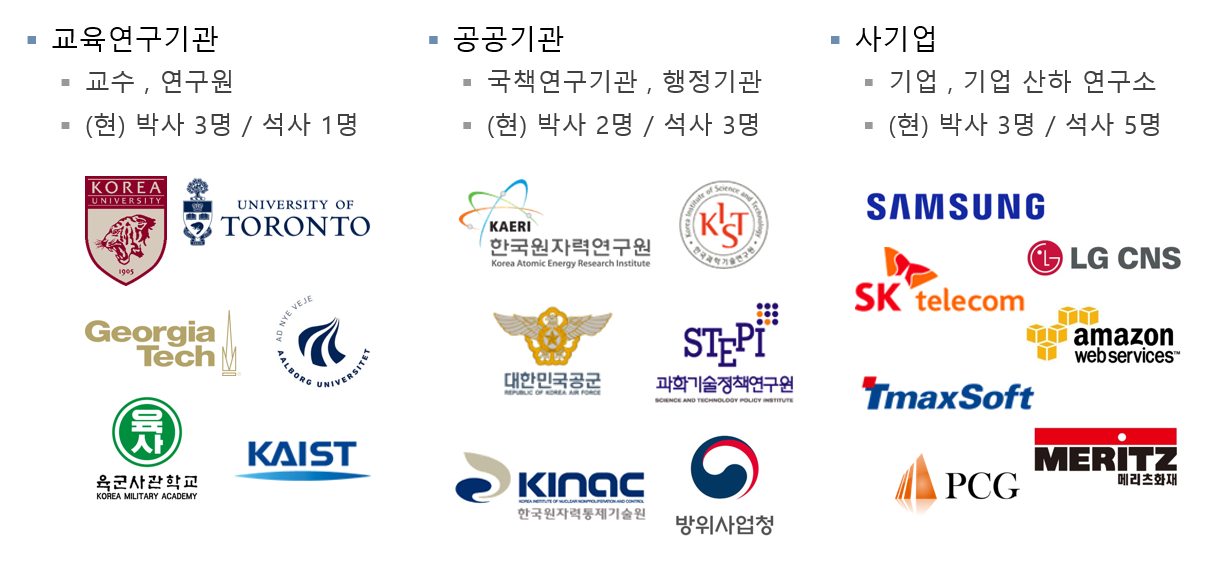 ---
Selective research topics had been studied by undergraduate students
During each semester and vacation, many undergraduate students have conducted research through lab internships, graduate research and individual research program.
We welcome undergraduate students who wish to experience interesting research with us.
Theoretical Study on Reproduction Number for Estimation Infectivity of COVID-19
Design and optimization of pooled sample test to diagnosis COVID-19
Design of Weight Loss Diet and Exercise Recommendation Model Using Markov Decision Process
Optimization model to find optimal location of pediatric emergency patient hospitals in Korea
Analyzing the relation between overcrowding and length of stay in the emergency room using data from a tertiary hospital in Korea
Methodologies to solve MAUP (Modifiable Areal Unit Problem)
Vehicle routing problem to efficiently manage inventory level of each kiosk of public bicycle system in Daejeon (Tashu)
Optimization model to find optimal location of cardioverter defibrillators on KAIST campus
---
Graduate courses recommended after joining CSD Lab.
Category
Optimization
Decision Science
Data Analytics
Basic

Convex Optimization (IE539)

Stochastic Process I (IE632)

Advanced Engineering Statistics (IE541)

Key

Linear Programming (IE531)

Dynamic Programming and Optimal Control (IE801)

Applications of AI/DM Technology (IE661)

Electives

Scheduling Theory and Applications (IE536)
Healthcare Service Delivery System (IE573)
Integer Programming (IE631)
Combinatorial Optimization (IE635)

Convex Optimization (IE539)
Applications of AI/DM Technology (IE661)
Game Theory with Engineering Applications (IE801)

Data Mining (IE646)
Sensor Data Science (IE801)
Healthcare Service Delivery System (IE573)
IE801: Special Topics in Industrial Engineering II